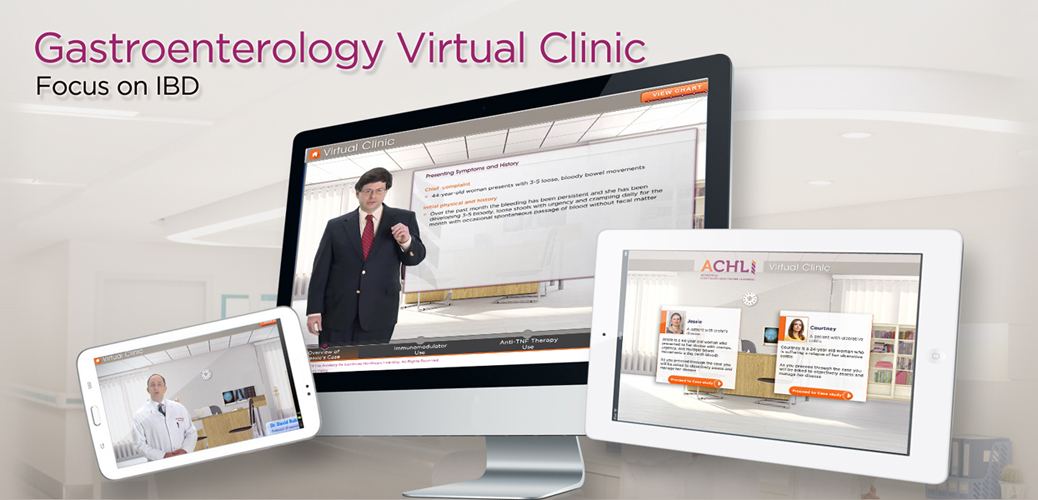 Start Activity
Sign In
IBD Virtual Clinic

Overview of Virtual Clinic Activity
The IBD Virtual Clinic is a unique opportunity for clinicians to witness optimal treatment approaches as practiced in the clinic setting, and learn through interactive case-based experiences.
Release Date: 3/3/2014
Expiration Date: 3/3/2016
Statement of Need
Inflammatory bowel disease (IBD) represents one of the most frequently encountered conditions in primary care and poses a constant challenge for gastroenterologists to manage. The two primary types of IBD, Crohn's disease (CD) and ulcerative colitis (UC), are chronic, heterogenic, lifelong illnesses with a young age of onset and a great potential for disability. Thus, educating physicians about evidence-based methods for optimizing the treatment of IBD, specifically with pharmacologic therapies, may improve both patient adherence to treatment and patient outcomes.
Target Audience
This activity is intended for gastroenterologists and other physicians who manage patients with IBD.
Learning Objectives
Upon completion of this activity, participants will be able to:
Analyze therapeutic IBD options for various patient populations in the context of treatment guidelines and algorithms
Apply knowledge of IBD medications (mechanisms of action, dosing regimens, safety profiles, and evidence of effectiveness) in order to tailor therapy to the individual patient
Implement evidence-based methods and patient education to help optimize IBD treatment strategies and quality of life
Sponsors


Cosponsored by Indiana University School of Medicine and the Academy for Continued Healthcare Learning
Acknowledgements
Our grateful acknowledgement to AbbVie Inc., Shire, and UCB, Inc. for educational grants in support of this program.
System Requirements
Windows
1.4GHz Intel® Pentium® 4 or faster processor (or equivalent) for Microsoft® Windows® XP or Windows 7; 2GHz Pentium 4 or faster processor (or equivalent) for Windows Vista®
Windows XP, Windows Vista, or Windows 7
512MB of RAM (1GB recommended) for Windows XP or Windows 7; 1GB of RAM (2GB recommended) for Windows Vista
Microsoft Internet Explorer 7, 8, 9; Mozilla Firefox; Google Chrome
Adobe® Flash® Player 8.0 or higher
Mac OS
1.83GHz Intel Core™ Duo or faster processor
512MB of RAM (1GB recommended)
Mac OS X, 10.5, 10.6, 10.7.4, 10.8
Mozilla Firefox; Apple Safari; Google Chrome
Adobe® Flash® Player 8.0 or higher
iPad and Android
iPad
App is only compatible on iPad 2 (2nd generation) or higher
App is not optimized for MAC or iPhone (any versions)
Android
App is optimized to run only on Android Tablets, supporting Android OS 2.3 and higher
Minimum processor requirement: 1 GHz
Minimum RAM requirement: 512 MB
App is designed for 1280 px wide x 800 px high resolution, and will scale up/down proportionately for other tablet resolutions.
Achl
Copyright © 2014 Academy for Continued Healthcare Learning
Terms and Conditions/Privacy Policy